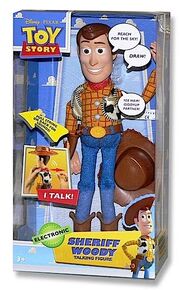 The Woody figure/doll Mattel made did not get a worldwide release. Instead, they have it released in Europe and Australia. The reasons are unknown why this is. There are two different versions of this figure. One was released before Toy Story 3 and has the "water-hole" and "posse" phrases. The other was made after Toy Story 3, having phrases related to the film such as, "You've got a date with Justice, One Eyed Bart!" and "I'm going to college! Look at me, I'm a big toy on campus!" The pre-TS3 version is no longer continued.
Europe version
"You're my favorite deputy!"
"Somebody's poisoned the waterhole!"
"Yee-haw! Giddy up, partner!"
"There's a snake in my boot!"
"Reach for the sky!"
"This town ain't big enough for the two of us!"
"Draw!"