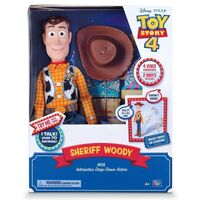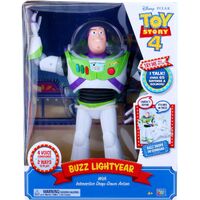 The Interactive Drop-down Woody and Buzz are a set of toys released by Thinkway Toys to coincide with the release of Toy Story 4. Their marketing is based on the fact that they drop down on command. They also have electronically moving heads. They both go for $69.99
Many people are concerned about the durability of these toys. Due to the fact that it's $70, People don't want these toys to break so easily.
Difference between TSC and ID
Edit
Final Product:
Edit
Has printed vest, badge. While TSC has non-printed vest and badge.
Woody can stand up. While TSC can only have woody standing with his stand.
Hat is not stitched, while TSC has it stitched.
ID has visible screws on his head. While TSC has a screw inside its neck.
Belt buckle, holster, and spurs are yellow. While TSC has them gold.
His hair has no paint streaks.
Prototype Version:
Edit
His buttons are not made from Pixar's digital data and instead are the same buttons used on the Original 1995 release
His belt and spurs are yellow, not gold.
His spurs are thicker.
His hat is completely plastic, with a brim the same color as the rest of his hat, also his hat ain't stitched
His hair has no paint streaks, and his hair is darker.
This Woody has a low pitched voice, than the Toy Story Collection Woody, has the high pitched voice. Some versions of this product has a high pitched voice.
Final Product:
Edit
Buzz is not voiced by Tim Allen. While TSC has Tim Allen voiced it.
Buzz has a visible hole in his Space Ranger sticker. Presumably for interaction. While TSC doesn't have it.
Buzz wings doesn't glow. While TSC's wings glow.
Buzz has no wrist communicator. While TSC has it.
Prototype Version:
Edit
Both the prototype version and Collection are the same. However, the prototype version has Buzz more phrases than the Signature Collection.
Inaccuracies
Edit
Buzz is not voiced by Tim Allen.
Community content is available under
CC-BY-SA
unless otherwise noted.