Jessie the Yodelin' Cowgirl
is a character of the Disney/Pixar film franchise, Toy Story. She is a rag doll cowgirl toy with a vintage pull-string mechanism, where one would pull the string to activate a phonograph-like mechanism that played sounds. She is voiced by Joan Cusack. Her favourite colour is blue
A traditional toy from the late 1950's, Jessie is a ragdoll replica of the character from the Woody's Roundup television show. Her assembly is almost entirely hand-made, including a hand-painted face and braided yarn hair on her vinyl head, naturally dyed chaps blanket stitched to her legs, authentic pearl-colored snap-buttons as would be found on Cowboy shirts of the time, vinyl hands, soft, textured vinyl belt and boots, genuine denim jeans, a yellow belt buckle, and a hand-stitched felt hat
Jessie also features a sewn-in pull-string mechanism that uses a miniature record within a plastic shell. When the string is pulled, the needle in the miniature record player drops on one of several grooves, thus playing voice clips at random. The speed regulator within the mechanism also causes the string to retract slowly, so that the voice from the record plays at the proper and consistent speed.
Unlike Woody, Jessie's pull-string has never been pulled in the movies, so it is unknown what her phrases may be, though it is likely she has nine like the Prospector and Woody.
Pull-String Talking Jessie
Released by Thinkway Toys in 1999 for Toy Story 2, Jessie is a pull-string doll made from similar materials as the original talking Woody doll. She includes her hat, made of plastic, and is fairly inaccurate to the films, being far too bulky. She speaks six phrases as follows

Howdy, I'm Jessie!
The Roundup gang is back in town!
Yeehaw!
Hey, you've got to take care of yourself!
Hey! There's a snake in your boot!
Hahaha!
Some versions of this doll feature plastic hair, and some feature accurate yarn hair. It is unknown if one version superseded the other or if this difference was geographic.
Toy Story Signature Collection
Released by Thinkway Toys in 2010 as a part of Wave 2 of the Toy Story Signature Collection, she is the most film accurate version of Jessie to date. She comes in a Woody's Roundup inspired packaging that is similar to that of Woody and Bullseye, only her box is pink instead of blue. She has real yarn hair, which makes it difficult for her hat to stay on. An elastic strap is included in the hat so that you can put it around her neck to keep her hat stay on. Her display stand base is in the shape of a horseshoe. Unlike Woody, her speaker is inside her head. She features two different modes, "Toy Mode Jessie" as well as an interactive "Andy's Room Jessie" mode. She has a total of 33 different sayings. Like all characters that are a part of the line, she is included with a Certificate of Authenticity signed by John Lasseter.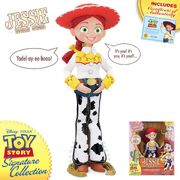 Buzz, could you get up here and give me a hand?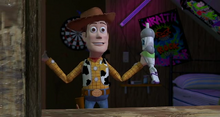 Community content is available under
CC-BY-SA
unless otherwise noted.