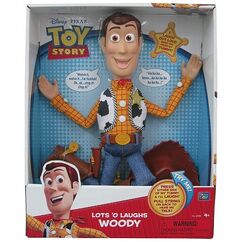 Say "hey howdy hey" to Thinkway's new, improved, and giggiling Woody doll from the Toy Story series! (2011)
One of Thinkway Toys' newest releases. Meet Lots o' Laughs Woody! He's got a completely different face sculpt. In fact, he's similar to the Playtime version. He has most of his original phrases. He also has buttons  on his side so that you can "tickle" him.

Details:
Tickle Woody (press the sides of his waist) to make him laugh out loud!
Keep tickling or shake him and he laughs even more!
Pull string on back to hear Woody talk and give him a break from laughing.
Highly detailed Woody doll comes complete with a cowboy hat, sheriff badge, belt/buckle and holster.
Approximately 16" tall.
All new original head sculpt.