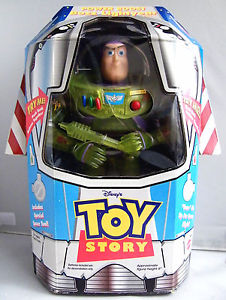 Power Boost Buzz Lightyear is a 9" inch Buzz Lightyear made by Mattel in late 1997 and early 1998 as apart of the "NEW! Disney's Toy Story" toyline
Buzz Lightyear comes packaged in a box designed like a spaceship, this was influenced by the packaging Buzz came with in the Toy Story movie.
Buzz features a retractible helmet, flip up chest pannel, two forearm pannels, and an original head and body sculpt unlike any other Buzz!
He has two talking phrases:
Buzz Lightyear, ready to be powered up!
Buzz Lightyear, powered up!

[NOTE] He has more sounds which are just that, sounds, not spoken phrases
Includes:
(1) Space tool.
(1) Power Boost Buzz Lightyear
(1) Set of instructions
(1) Space themed box
(3) Batteries

FOR AGES 4 AND OVER