Talkin' Tude Woody is a 14" Woody doll made by Mattel in 1999 as part of the "Toy Story 2" toyline.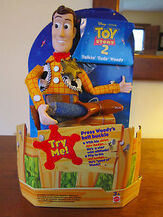 Press Woody's buckle, with the shiny new badge and "He's a star with an attitude." & flip to the old badge "He's your good ol' Woody." Has "ANDY" on bottom of 1 boot.
Says 9 phrases:
        New badge phrases: 
"Hey howdy hey, I am looking good!",
"I am a precious collectable.",
"Pretty impressive, huh."
     Old badge phrases:
"I'm a toy, I'm supposed to be played with!"
"Friends always stick together."
Jim Hanks supplies the voice.