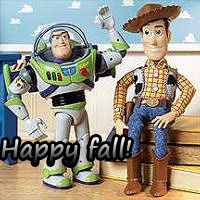 Feel free to contribute! Please! It's greatly appreciated.
Edit
Welcome to the Toy Story Merchandise Wiki! Please feel free to add or edit pages as they come!
Welcome Toy Story Merchandise collectors and fans!
Edit
Hello all, please feel free to contribute to this wiki. Anything that's Toy Story merchandise related, please add it!
Wow, I've been inactive for quite a while! You guys have done a great job with this wiki, I'm very proud of you all.
Please do not spam or post eBay links, if you want people to see the picture, please post it in the article.
Please try not to make dupe pages, search before you make a page, it'll save you some time.
Please do not swear, we may have younger people here looking or editing the Wiki.
Thanks, and have fun!
Latest activity
Edit