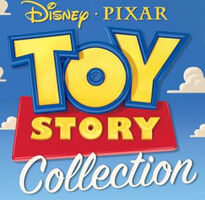 The Toy Story Collection (Later rebranded as the Toy Story Signature Collection in 2011) is a line of near-replica Toy Story toys produced by Thinkway Toys. Initially launched in 2009 to coincide with the coming release of Toy Story 3, the line focused on notable characters from the first two films. One of the biggest selling points is the use of Pixar's original digital data from Toy Story 3, and later Toy Story 4, to create the toys, and the movie-inspired packaging they are sold in.
After slowing down considerably after the second wave, and taking a long hiatus from 2012 to 2019, the line began to arrive back in stores with a focus on the main characters of the franchise and was exclusive to Target in the United States.
Characters from Toy Story 4 arrived in the line in synchronization with the buildup to the movie, with two additional waves being produced. The line is still shipping.
Wave 1 (2009)
 Woody the Sheriff (Cloud Logo Version) (Mid 2009)

This is the first version of the Toy Story Collection Woody doll with real, light blue, denim jeans. They were only manufactured in 2009 and are incredibly rare to find. They are packaged in a box inspired by the design of the Prospector's from Toy Story 2, features pull string action and interactive talkback modes. He comes with a display stand, and the base is shaped like a sheriff star. This Woody doll has most of his pull-string phrases with the exceptions of "Somebody's poisoned the waterhole!" and "I'd like to join your posse boys, but first I'm gonna sing a little song." In total, he has 50 sayings. Woody is one of few characters to have been available since the line started in 2009, as he is still being manufactured today.

 Woody the Sheriff (Cloud Logo Version 2) (Late 2009 - 2010)

Woody's jeans were changed from a light blue color to a dark blue color.

Rex, the Roarr'n Dinosaur

This version of Rex is packaged in a crate, with a hole on the top for Rex's head to poke out of. His tail is detached in the packaging, however, artwork of his tail poking out is visible on the side of the box. He talks by turning his tail, and he has a motorized head and arms. There is a cheaper version of Rex produced by Thinkway that lacks the talking feature, it is just a poseable dinosaur-like Rex is in the movies. Unfortunately, Rex is no longer being manufactured by Thinkway and is hard to find.

R.C. - Wireless Remote Control Car

This is one of very few remote-controlled R.C. toys out there. His box is a western-styled theme that looks quite retro. His remote control allows him to move forward, backward, bounce, and spin 360 degrees. He has 3 main modes. He has his main mode, where you move him with the remote. In the "Follow" mode, he will sense movement or your voice, and "follow" you. His "Explore" mode lets him roam freely throughout the room. R.C. has sensors in his body that prevent him from bumping into obstacles. His antennas are actually fake and just there for show, as he is controlled wirelessly. Unfortunately, like Rex, he is no longer in production and is quite pricey on sites like eBay today.

Bucket 'O' Soldiers

There are two versions of the Collection Bucket 'o' Soldiers. The very first, the early version is not made from digital data and includes no certificate of authenticity for that reason. They are also much more olive drab than forest green. There are some differences in poses and, other than the plastic quality, resemble standard generic army men much more than they do the characters from the film. The second release is made from Pixar data, includes the certificate, and overall much more accurately resembles the film designs. The second version began shipping approximately 3-4 months after the line launched and has been standard ever since.

Buzz Lightyear - Space Ranger

Comes in a near-replica of his spaceship box from the films, with a try-me mode in the store accessible through a cutout in the plastic window. Features two different play modes, Toy Buzz and Space Ranger. In Toy mode, he behaves like a "toy" and he will not respond to your voice or turn his head. He is limited to 5 sayings in toy mode, and they sound more compacted. In Space Ranger mode, he comes "alive" and will talk like he did in the first Toy Story when he believed he was a real space ranger. He lacks karate chop action, as well as the phrase "There's a secret mission in uncharted space, let's go!" He is currently available at Target stores in the U.S.

Space Aliens - 3 Pack

These three aliens are sculpted in three different poses. They don't have any features and are more of display pieces than toys. They cannot squeak. Early versions of the Space Aliens were made of hard plastic, but the later versions are made of soft plastic. For unexplained reasons, they were removed from Toys R Us stores around the time the line was rebranded to Signature Collection. They became quite scarce and hard to find for a while, until 2018, when Target stores became the home to the Signature Collection line. It is unknown why they went unproduced for years, but you can buy them today at Target stores and their website.
Wave 2 (2010)
 Woody the Sheriff (White Logo Version)

The box was changed to have a white logo instead of a cloud logo.

Lots-O-Huggin' Bear

The only Toy Story 3 character in Wave 2, Lotso is soft and cuddly. He comes in a pink, cute box with a try-me hole shaped like a heart so you can test him out in the stores. He has buttons inside his paws and belly, which react differently depending on which is pressed. The button inside his belly is his "hug" button, as he reacts as though he's being hugged when you press it. He has a strawberry scent. He is no longer being manufactured by Thinkway.

Mr. Potato Head

Mr. Potato Head comes in a colorful, vibrant box with illustrations of his features. You can push his hat to make him talk, or talk to him and he responds. If you make a loud noise, his parts, with the exception of his mouth, will pop off. He also includes angry eyes and an angry mouth. Contrary to the movie, his eyes are conjoined and not separated, as well as his shoes being stuck on the body. He also has legs, which are not seen in the movie. There are a couple of pictures of a prototype version of Mr. Potato Head. The prototype images show him with no legs, as well as his eyes being more loosely connected. He was discontinued by Thinkway in 2011, likely due to licensing issues with Hasbro.

Jessie the Yodeling Cowgirl

She comes in a similar box as Woody's, only it is pink instead of blue. She has real yarn hair, which makes it difficult for her hat to stay on. An elastic strap is included in the hat so that you can put it around her neck to keep her hat stay on. Her display stand base is in the shape of a horseshoe. Unlike Woody, her speaker is inside her head. In total, she has 33 sayings and can be found at Target stores.

Bullseye

Bullseye's box is similar in appearance to Woody's, however, it is much larger. Bullseye's display stand is clear plastic, and he does not connect to it, he simply sits and balances on it. Like the other toys, he has a toy mode and interactive mode. In toy mode, you press the button inside his neck to make him say 10 horse phrases. You can also talk to Bullseye and he will respond. If you press the button on his neck twice quickly, he will play an instrumental version of the Woody's Roundup theme song. You can also rock him back and forth and he will vibrate and make galloping noises. He is currently available at Target stores.

Utility Belt Buzz Lightyear

This Buzz is almost identical to the standard Buzz, but he has more phrases in response to his utility belt. The utility belt will make noises when you press it, and Buzz reacts in his "Space Ranger" mode. While he has most of the same phrases as standard Buzz, his sayings are usually said in a stronger tone. Unlike the 2009 Buzz Lightyear, Utility Belt Buzz has the phrase "There's a secret mission in uncharted space" which is a phrase the Wave 1 Buzz omits. He was available for only a brief period of time and is extremely rare nowadays.
Wave 3 (2011 - 2012)
 Woody the Sheriff (Signature Collection Version) (2011)

Woody's jeans were changed from real denim texture to a printed on material.

 Woody the Sheriff (Signature Collection Version 2) (2012)

Woody was shortened to about 14 inches tall.

Mr. Pricklepants

Mr. Pricklepants is a soft plush toy with plastic buttons, eyes, and a plastic hat. He comes packaged in a theater-like box. Inside the box is also a cardboard theater background you can take out and use for pretend play. He was exclusive to the Disney Store for some time but was sold at Toys R Us for a while as well.

Buttercup

He comes packaged in a box with a style similar to the toys from Hasbro's "My Little Pony" toy line. He has plastic eyes and is made of squishy plush material. Like the rest of Wave 3, he was exclusive to the Disney Store.

Dolly

Dolly comes in a blue and white box with different colored buttons around the sides. She is made of sturdy doll-like material with a cloth dress. She has googly eyes, as well as plastic buttons on her dress. There is an inaccuracy to the movie on Dolly, as she is lacking the front tooth she has in Toy Story 3. She was also a Disney Store exclusive and is hard to find today.
Wave 4 (2019)
Woody the Sheriff (Signature Collection Version 3)

​​​​​​​Woody was reverted back to the white logo version, being 1-2 inches taller.

Bo Peep and Sheep
Wave 5 (2020 - 2021)
Other notes
The toys are all manufactured using Pixar's digital data, which has been pre-posed by the animators in conjunction with Thinkway to create the sculpts and designs for the toys. In some cases, expressions and other features have been intentionally changed to help increase the toy's playability. In an example, Duke Caboom features inaccurate peg hole shaped hands that allow him to better grip his motorcycle.
At some point, presumably very early on, a Hamm figure was planned and was in development far enough along to have a prototype of its packaging developed. From this package, it seems that Hamm was supposed to function as a real piggy bank and have a motorized head activated by inserting coins into his slot[1]. Only one photo of the prototype is known to exist.
So, far, there are a few characters that fans recognize and really want; have not yet to have his or her own toy in the signature collection: Hamm and Slinky (Toy Story), Stinky Pete and Zurg (Toy Story 2), Trixie and Big Baby (Toy Story 3) and Gaby Gaby (Toy Story 4).
Gallery
References
Community content is available under
CC-BY-SA
unless otherwise noted.