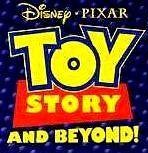 Toy Story and Beyond was created by Hasbro and was possibly created to keep Toy Story and the toys from not dying out. The line went from 2000-2007. Hasbro's version of the line started around late 2001. They ranged from "Lost Episodes", Backyard Patrol, Star Squad, and other various things. They had 3" action figures as well as movie scale figures.They also made a small Wheezy and a small Lenny.
Not only did Hasbro use this, even Thinkway Toys and Mattel used this little slogan for a few of their toys. It was also used by the Disney Store .
Toy Phrases
Edit
Woody (2002)
"Howdy partner! My name's Woody!"
"You're my favorite deputy!"
"Hey howdy hey, I am lookin' good!"
"I like to play guitar!"
"Giddy up partner!"
Jessie (2002)
"Hi there! I'm Jessie!"
"Yee-haw!"
"There's nothin' like a good adventure!"
"Lets ride like the wind!"
"Way to go, cowpoke!"
"Lets yodel!"
"Yodelay-Hee-Hoo!"
Squad Leader Woody (2001)
"Come In, Mother Bird."
"Buzz, Send in the heavy artillery."
"Shh, did you hear something?"
"Seargent Potato head, deploy the troops."
"Roger that, Buzz."
"Copy that, Buzz."
"That's a tin-foil on that one!"
"Good job troops!"
"Send in the paratrooper!"
"A Good soldier never leaves a man behind!"
"I'm counting on you Potato head"
"Red alert, red alert!"
"Buzz, We got trouble, red alert!"
Battle Buzz Lightyear (2001) Edit
"I am Buzz Lightyear. I come in peace!"
"Look at my impressive wingspan!"
"Woody, we need air support!"
"You've got it, Woody! *cannon noise*"
"Take cover, Woody. I'll check it out!"
"I'm on my way, Woody!"
"Woody! I'm trapped! I need your help."
"Buzz Lightyear to the rescue!"
"Buzz Lightyear to Star Command."
"Mission Accomplished, Woody!"
"To infinity and beyond!"
NOTE: Squad leader Woody and Battle Buzz Lightyear action figures interact with each other.
Nighttime Rescue Buzz Lightyear (2005)
To Infinity and Beyond!
"Greetings, I am Buzz Lightyear."
"Good Going, Cadet!"
"Load Laser Cannon!"
"I have Zurg in my sights!"
"Get ready, FIRE LASERS!!!"
"Buzz Lightyear to the rescue!"
Deluxe Electronic Buzz Lightyear (2007 Backyard Patrol re-release)
"To infinity and beyond!"
"Be alert! Adventure can come from any direction!"
"Alright Ranger, Which direction should we go?"
"Hmmm. Interesting, We better take a closer look at this!"
"Looks like Zurg was here."
Battle Commands Buzz Lightyear (2000)
"Prepare for battle space ranger. It's emporer zurg!"
"That's a zurgatronic ION blaster. Take cover!"
"I'm awake from hyper-sleep, and ready for action."
Lazer Blasting Electronic Buzz Lightyear
Edit
Lazer Blasting Electronic Buzz Lightyear (2001), The Most Common Hasbro Buzz
Phrases
1.To Infinity And Beyond
2.Greatings, I Am Buzz Lightyear
3.Lazer Blaster Check
4.Load Lazer Cannon
5.Zurg Will Never See This Coming
6.Get Ready, Fire Lazers
7.Good Going Cadet
Community content is available under
CC-BY-SA
unless otherwise noted.